Greatoo owns more than 700 sets of precision and advanced equipment for production and inspection, and adopt accurate numerical control machining tools whose repeat positioning accuracy fall within ±0.005mm, including FIDIA (Italy) high speed machining tools, Mazak (Japan) huge milling machines, WILLEMIN (Switzerland) five axis five linkages machining tools, etc.. We utilize imported large-scale 3D detector from USA for CAD on-line detection, and apply advanced software like UG, Ci-matron and CAD/CAE/CAM system from America and Israel on design, simulation and drafting. The company has built up a large tire tread and model database, and realized paperless operation from design, drafting to production on key process, with domestic first-class technical equipment and advanced international technology.
High-precision RV reducer

Feature of RV reducer:
1.Large scale of output torque and transmission ratio
2.High efficiency and smoothness of transmission with little noise
3.High cooling efficiency and long service life









High-performance servo drive and electric motor:

According the change of load inertia, it can cooperate with Adaptive filter, and automatically adjust gains from low to high rigidity.By panel operation, electric motor can implement real-time monitoring,simultaneously set and confirm the parameter.










Control system
The USB interface on the teaching device makes program backup and import more convenient.
It can complete teaching, programming and other operator through teaching machine, and monitor all kinds of input/output signals and position signals at the same time.
Through Ethernet interface, it can simulate teaching machine interface, and accomplish a series of operations like robot teaching, programming, PLC developing, etc..

Special chucking appliance
In accordance with various requirement of work-piece and technique, we can provide the whole set of chucking appliance solution, and ensure work-pieces are able to locate rapidly and precisely.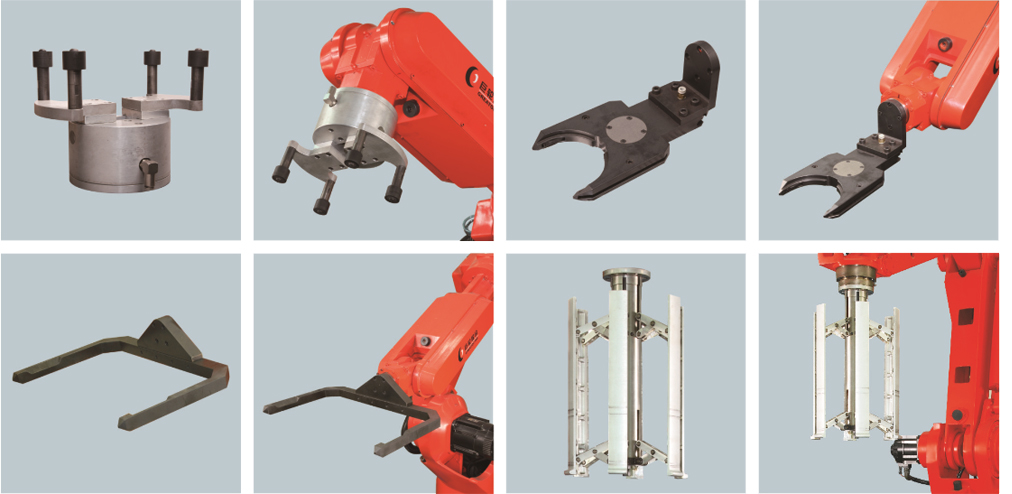 Unit control system
  The functions of unit control system include unit modeling, unit operation control, unit heterogeneous equipment communication, unit simulation, unit untoward effects warning, unit processing equipment monitoring, etc..
It can make the robot as the core of the system, connect different equipment in the unit like machine tools, inspection equipment and cleaning station, and achieve task adjustment, automatic load/unload of work-piece, automatic inspection, work-piece offset compensation and other assignments by instant transmission of message and command.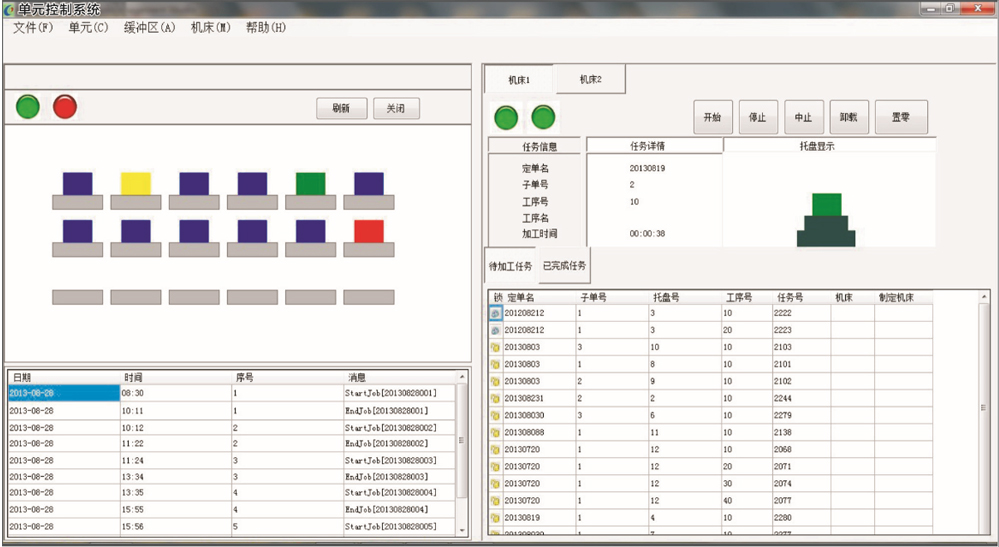 Robot offline programming
  We build a model of robot and its working circumstance on the computer, by controlling and operating on the figures, programme without a real robot, and generate robot programs. In contrast with traditional online teaching-programming, offline programming owns many advantages, such as reducing robot non-operative hours, protecting programmer from dangerous working environment, making robot program modification easier and raising programming efficiency with various artificial intelligence technologies.

Robot vision system


  Robot vision system consists of three parts: image capturing, image processing and analysing, image output. Vision system is mainly applied for instructing robot in grabbing and placing itemscorrectly and realizing accurate positioning and grabbing of different shape and different location.